Westview Limes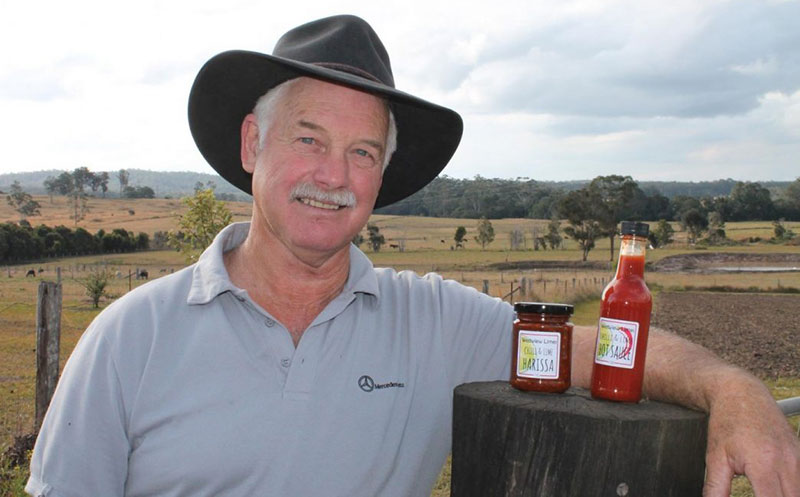 Westview Limes has been a steep learning curve for Kempsey's Clive West, but he's loved every minute of it.
After years of travelling interstate as a truck driver, Clive was ready for a change when he began growing fruits and vegetables on his property at Collombatti.
"Luckily, I got some great advice to plant lime trees," Clive says. "I started out with 100 and now have 1300!"
The experienced gardener now produces chillis, limes, lemons, cabbages, cauliflower, eggplant, beans and zucchinis, which he sells to organic wholesalers across Australia.
Clive started experimenting with making sauces in 2015 and Westview Limes was born soon after. His sauces, including the award-winning chilli and lime harissa, are made in collaboration The Other Chef in Port Macquarie using Westview Limes produce.
After years of avoiding pesticides, Westview Limes is in the process of gaining organic certification, which it will receive mid-2018.
"I was spraying my beans and I noticed that, even after washing them three times, I could still taste the pesticides," Clive says. "That was the decider for me. A lot of people have told me that they can taste the difference in my organic lime juice, which is growing very popular."
Clive's personable approach to dealing with customers, combined with his passion for gardening has earned Westview Limes a loyal following.
"I've done all the marketing myself by driving to each store and giving them a taste of the product," he says. "A lot of local sauce-makers also use my chilli and lime – we help each other out."
With a host of interesting opportunities in the pipeline, Clive shows no signs of slowing down – and there's nothing he loves more than encouraging local land owners to get their hands dirty.
"There's not enough vegetables in Australia, so much so that we're importing them in!" He says. "Here in the Macleay Valley, we've got the best soil and climate – it's a great place to grow food."
The product range available for purchase includes;
Tahitian Limes
Chillies
Lemons
Lime juice
Chilli and Lime Harissa Paste
Lime and Chilli Hot Sauce
Chilli Lime Relish
Zesty Lime Dressing
Preserved Lemons
Contact details
Phone
Address
1252 Collombatti Rd, Collombatti NSW 2440, Australia