Yarra Rocket Science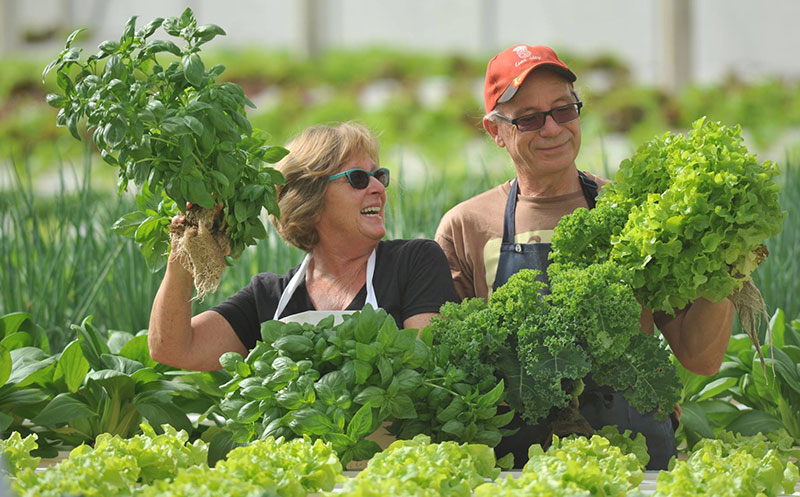 Think growing lettuce is easy? Guess again, say Yarrahapinni producers Elizabeth and Doug Armer.
The green-thumbed couple moved from Canberra three years ago to take over a hydroponic fancy lettuce farm, naming it 'Lettuceland'. The business, called 'Yarra Rocket Science', now produces an array of leafy edibles, diversifying to grow Asian greens and herbs for retail and wholesale businesses and local restaurants.
"I couldn't believe how many people said to us, 'growing lettuce is not exactly rocket science'," Elizabeth says. "It's actually very difficult to grow a perfect lettuce – hence the name!"
Canadian-born Elizabeth has a strong family connection to the Macleay Valley – her father was born in Kempsey, and she fondly remembers holidays to visit her grandmother.
"No matter where we were in the world, our family would come to Kempsey for holidays," she says. "My grandmother was my favourite person in the world. When I walk down the street I still recognise people from when I was a kid. It feels like home."
After years of living a corporate life in Canberra, Elizabeth and Doug decided they wanted a slower paced life, relocating to the Macleay Valley three years ago.
After falling in love with the Yarrahapinni property, the couple set about "bringing it up to scratch".
"I cried every day for the first year," Elizabeth laughs. "We had no idea how difficult it would be. We essentially had to rebuild the entire system and hothouses. It was tough."
When Elizabeth and Doug lost all their lettuces in last summer's heatwave, they refused to give up – transforming a disaster into an opportunity.
"Losing our lettuces forced us to diversify into other crops," Elizabeth says. "While it took a while for our customers to get used to Asian greens and herbs, we ended up forming fantastic relationships with them. Coming back from disaster has been our greatest achievement yet."
For now, the couple are focused on fine-tuning the business and sharing their abundant property and lifestyle with family, neighbors and friends.
"We feel so lucky to spend our days outside in the garden," Elizabeth says. "We love it here, and we love having visitors. Friends and family come just to work with us here for a few days, and neighbors bring their friends' grandkids over too. It's heaven."
"Our dream is to eventually show school children how some of their food is grown and where it comes from."