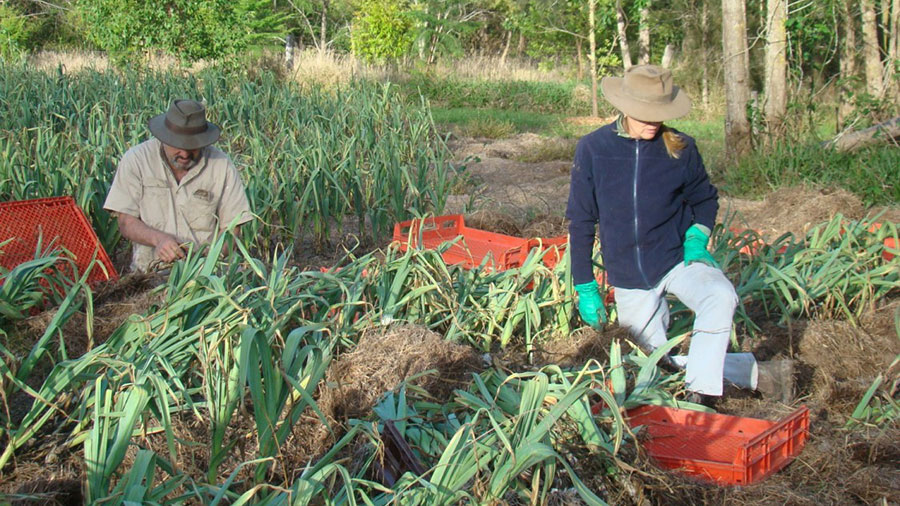 Sweet Water Farm (Organic Garlic)
When Marcus Skipper and Sally Ayre-Smith moved to the Macleay Valley seven years ago, they could never have imagined their humble parcel of land would produce some of the Mid North Coast's most sought after certified organic garlic.
Marcus, a builder and sculptor and Sally, a former TV/film producer, moved to the area with no farming experience, purchasing a 25-acre farm in Sherwood.
It was a case of learn-as-you-go for the enthusiastic couple, who launched into researching the best crops to grow before deciding on garlic and setting about gaining organic certification for the farm.
While Sally attended a TAFE course in organic farming, Marcus, who had never driven a tractor, used his experience as a sculptor to weld up his own three-point-linkage tractor machinery, learning how to prepare the soil, make compost and designing equipment along the way.
It took them three years to become certified organic before they could plant their first 100kgs of garlic – and the rest is history.
Sweet Water now grows over four tonnes of garlic per year and their product is in such high demand that it is pre-sold before it is harvested. They grow  two varieties of the very best quality garlic available anywhere in Australia.
'Rosie's' a French Garlic
Russian garlic.
The garlic is planted in April each year and harvested mid-November. Once harvested, the curing process takes around six weeks and the garlic is then available for sale.
The farm employs a local worker one day a week to help with the general gardens, orchards, weeding, pruning. Twice a year they employ two locals for a few weeks to help with harvest and planting plus we use the Wwoofer network during busy times.
The rest, they do with their own bare hands.
According to Sally, Sweet Water Garlic's success comes down to a balance between producing a high-quality product and nurturing relationships with buyers.
"Our product is consistently very high quality, we always deliver when we say we will," she says.  "The administration side of our business is efficient and all these elements contribute to an excellent relationship with our customers."
Sally and Marcus are deservedly proud of their achievements, and passionate about the growing potential of the Macleay Valley.
"We are so lucky to be living on the farm in this beautiful part of NSW," she says. "We love learning all the time how to be better farmers and grow organic food that people want to eat.
Contact details
West Kempsey NSW 2440, Australia
Email
garlic@sweetwaterfarm.com.au