Pipers Creek Grove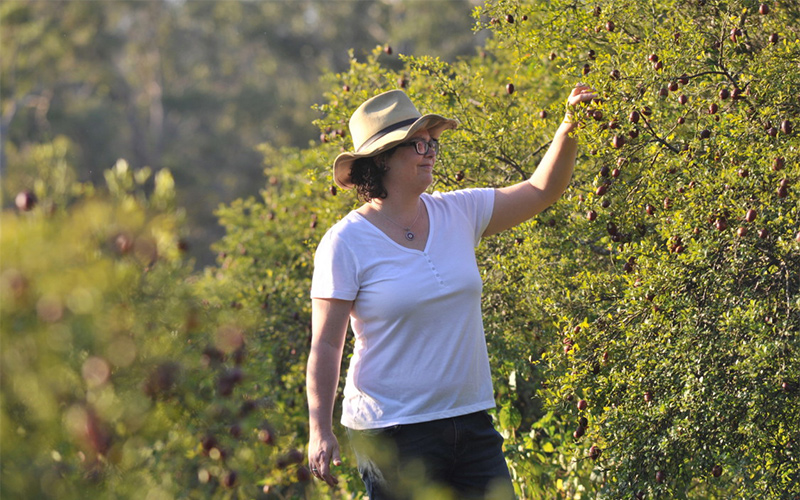 Bush tucker celebrates Australia's native flavours
A strong belief in the health benefits of organic foods and caring for the land are the two core values that have underpinned successful local agribusiness, Pipers Creek Grove.
The family owned enterprise,  in the Macleay Valley Food Bowl precinct, has recently been sold and will soon change hands.
The plantation is located on previously virgin land  south-west of Kempsey at Dondingalong and its sustainably production is grown on soil that has been carefully studied to optimise the natural soil and climate conditions.
Compatible plant species, including mostly rainforest species, have also been selected and trialled, with an emphasis on the impact of wild harvesting and the rarity of their natural stocks.
Operators Jules and Liza were known for their passion for caring for the land and interest in organics – which resulted in the farm's conversion to organic status in 2006. Jules and Liza  developed a range of organic hand-made gourmet products from the bush tucker orchards grown at their property.
"Our products come direct from the plantation to our kitchen and then on to the consumer," Jules said. "You don't get any fresher than that."
During operation, the business currently harvested approximately 1000 Blood Lime trees, 300 Lemon Myrtle trees, 2000 Aniseed Myrtle trees, 1000 Davidson Plum trees, 50 Cinnamon Myrtle trees and 200 Illawarra Plum trees.
The Macleay Valley Food Bowl will update the contact details of Piper's Creek Grove when the new operators are established.