Pipers Creek Grove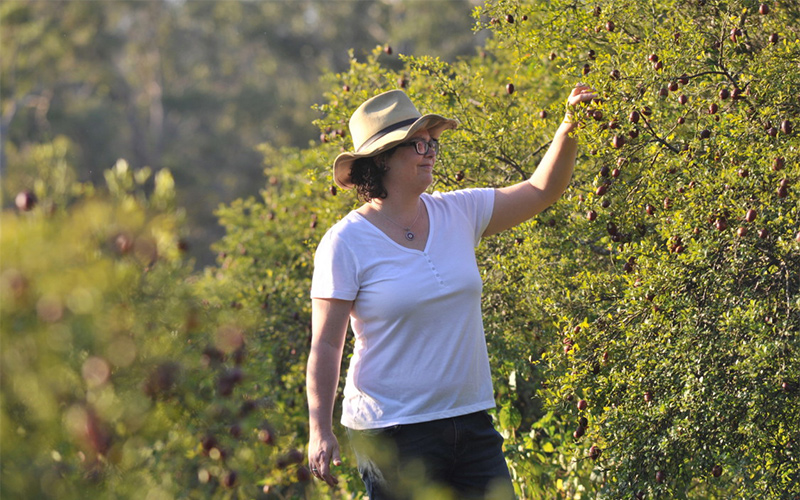 Bush tucker celebrates Australia's native flavours
A strong belief in the health benefits of organic foods and caring for the land are the two core values that underpin successful local agribusiness, Pipers Creek Grove, a family owned enterprise that operates south-west of Kempsey at Dondingalong in the Macleay Valley Food Bowl precinct.
Operators Jules and Liza have developed a range of organic hand-made gourmet products from the bush tucker orchards grown at their property.
"Our products come direct from the plantation to our kitchen and then on to the consumer," said Jules.
"You don't get any fresher than that."
The business currently harvests approximately 1000 Blood Lime trees, 300 Lemon Myrtle trees, 2000 Aniseed Myrtle trees, 1000 Davidson Plum trees, 50 Cinnamon Myrtle trees and 200 Illawarra Plum trees.
If, like many people, you don't have a clue what to do with a Blood Lime, Jules has no shortage of recommendations.
"Basically, Blood Limes can substitute any lime recipe," she says.
"You can use them in cocktails, beer, with seafood (they are speciously delicious squeezed on oysters), in a citrus sauce for dessert, in marmalade, mineral water, curries, juice, desserts or as a pretty garnish for your plate."
Customers can buy direct from Pipers Creek Grove by ordering both fresh and frozen products online via the company's website.
"We have a passion for growing bush tucker and have developed a range of products to celebrate the native flavours of Australia," Jules said.
Products available for sale include fresh seasonal produce, jams, marmalades, pastes, essential oils and dried leaves.
The plantation is located on previously virgin land and its sustainably production is grown on soil that has been carefully studied to optimise the natural soil and climate conditions.
Compatible plant species, including mostly rainforest species, have also been selected and trialled, with an emphasis on the impact of wild harvesting and the rarity of their natural stocks.
Jules' passion for caring for the land and the health benefits of organics resulted in the company's conversion to organic status, and in 2006 Pipers Creek Grove attained Organic Certification.